The leaves are beginning to change on the trees and Harvest Festivals are well underway so a trip to the mountains was in order for the day.
The adventure included a stop at the town of Elkin where they were holding the Yadkin Pumkin Festival.  Talk about orange monsters!!  No photoshoppery with perspective or size as you can see this little man is not much taller than the pumpkin he was racing past!  There was a handy dany forklift available to get your pumpkin back into the rear of your Pick-Up truck once the judging was complete!  Just in case growing massive pumpkins is your thing!
And to reverse the perspective, I could not resist this shot of the tiny "Handful of Hound", sweetly adorned with a little Halloween fun and happily napping his way through the festivities.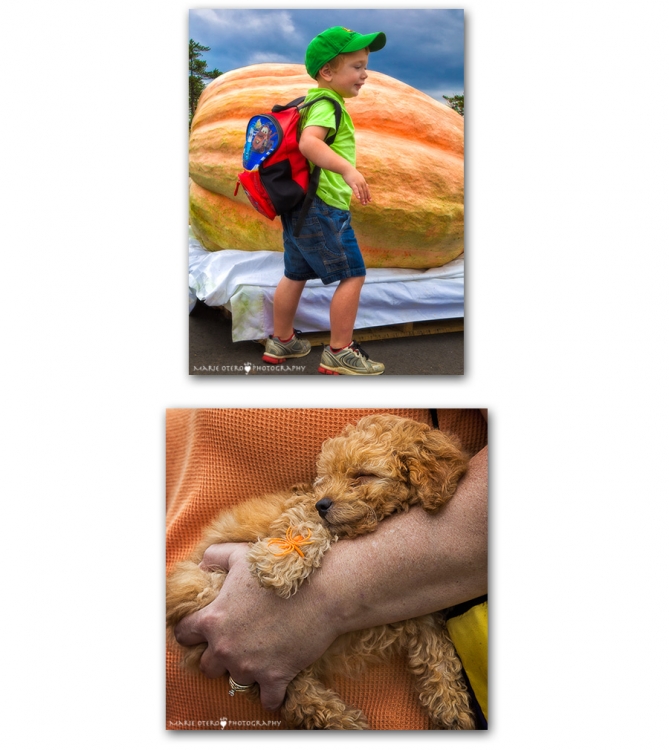 From Pumpkin perusing we changed gears and headed to Stone Mountain Park to chase a new waterfall.  Naughty me neglected to take my tripod or ND filters so I had to content myself with trying to get the right kinds of shots by propping my camera up against the odd tree or rock.
This waterfall is pretty impressive but it's quite the cardio work-out to get down and back UP the 1000's of stairs that adorn the cliff side for access.  Well worth the hike and the effort though.  And on the list to go back with the proper kit for sure!