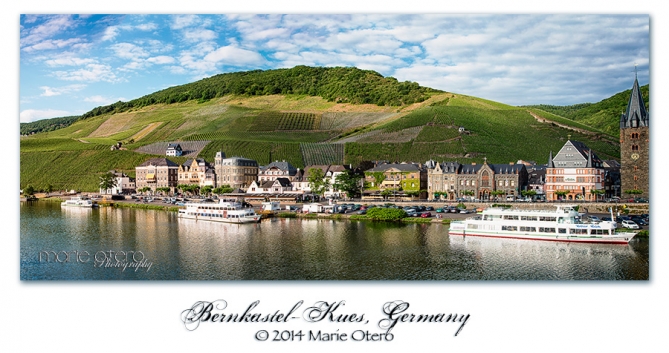 I jumped in the Mother's motor today with the notion of tripping to Trier to take some pictures of the fabulous city and cathedral there…. little did I know that I would be stymied by "Happy Mosel" Day, where many of the roads along the Mosel River are given over to foot, bike and rollerblade traffic and cars just have to stay home – no way to get anywhere ….
After meeting roadblock after roadblock I finally called it quits and spent the day walking around Bernkastel and just taking my time and enjoying the sunny day, scenery and wonderful light….
This Pano shot of Bernkastel and the Mosel River gives you an idea of the magnificence of the hills and vineyards that abound.  The full pano shot is twice as long as this and super super wide but the bloggy format does not really do it justice, so this is the cropped version….
Photoshop did not stitch it quite right so I ended up merging the images myself… sometimes the Auto features are not that posh!