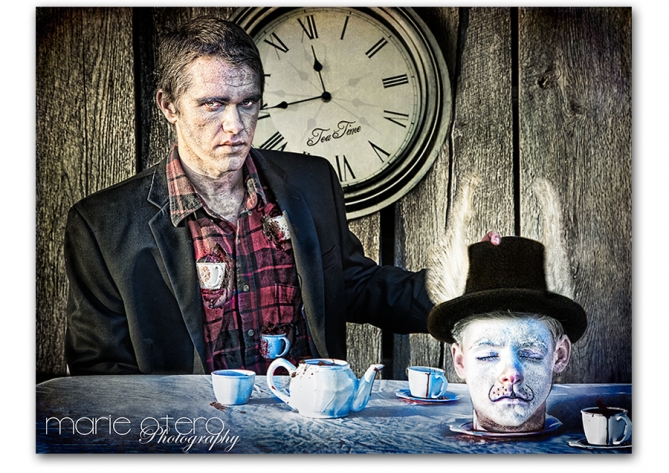 (Models Trey Hocutt, Hunter Evans.  Makeup Whitney Mears)
Messing around with a few of my images from yesterday.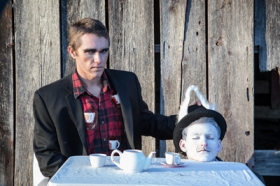 This is the base image for "rabbit cake"  Lots of work done and it's not perhaps quite finished.
What did I do?  A bunch of sharpening and image detail enhancing – almost to the point of ridiculous, but that was really the idea!
Copied and pasted the table to extend it in both directions.
Copied a saucer and added a new head onto it.  Refined the selection and added some drop shadows.
Added another teacup in the bottom right hand, added a fill layer to put some extra "blood" in there and used some blood brushes to daub some blood sploshes about.
Added some miscellaneous blood splashes to the cups and pots.
Dropped in the clock, masked it out and added a curves adjustment to darken it down.  Copied and pasted the hands  few times for creative effect.
Changed the text on the clock.  Filter>Blur, Opacity reduced.  And copied and pasted the clock hands a few times as well.
Multiple curves adjustments to get the light right on the faces and some dodge and burn as well.
Kind of fun to pull it all together and there are still some tweaks to be made…..