On Friday night DH and I headed up to the wooly wilds of Virginia so that we could be up bright and early to check out the Spartan Race at Wintergreen Resort and see what sort of pix could be found.  It's an 8 mile endurance and obstacle race, in this case hosted at what would normally be a ski resort, so you can imagine the kind of terrain was on the cards!!  It's a massive event with 6,000 runners expected to start the course over two days.
Our 5:30am start saw us driving to the resort and  being marshalled into general parking from where we were all shuttle bused up to the main resort area.  At 8:00am the "Elite" runners started off on the course and I understand the best time of the day was 1hr and 50mins, which is no mean feat at all.  From then on they started packs of 1 to 2 hundred runners in 15 minute increments.  Given that the terrain is normally given to downhill traffic on skiis or a snowboard, traversing it backwards, on foot to chase the runners was an "interesting" test of one's general fitness, to say the least – thank heavens for swimming and running to stay in shape!
Fortunately the physical effort paid off handsomely in being granted excellent access to all points of the course, and for whatever reason, toting a big camera with a long lens seems to lend you some sort of credibility towards taking pictures and the organizers where pretty happy to let me wander wherever I wanted to.
So there were long treks up ski slopes and down, lots of obstacles to climb up and down (points lost if you went around), mud baths, slippery slides, fire beds to jump over, ropes to climb, barbed wire fields to traverse, you name it, it had to be done.

And whilst there were many a pained face about the place, everyone seemed quite determined to forge on and complete the course …..  No nahmby pambhy whinning at all!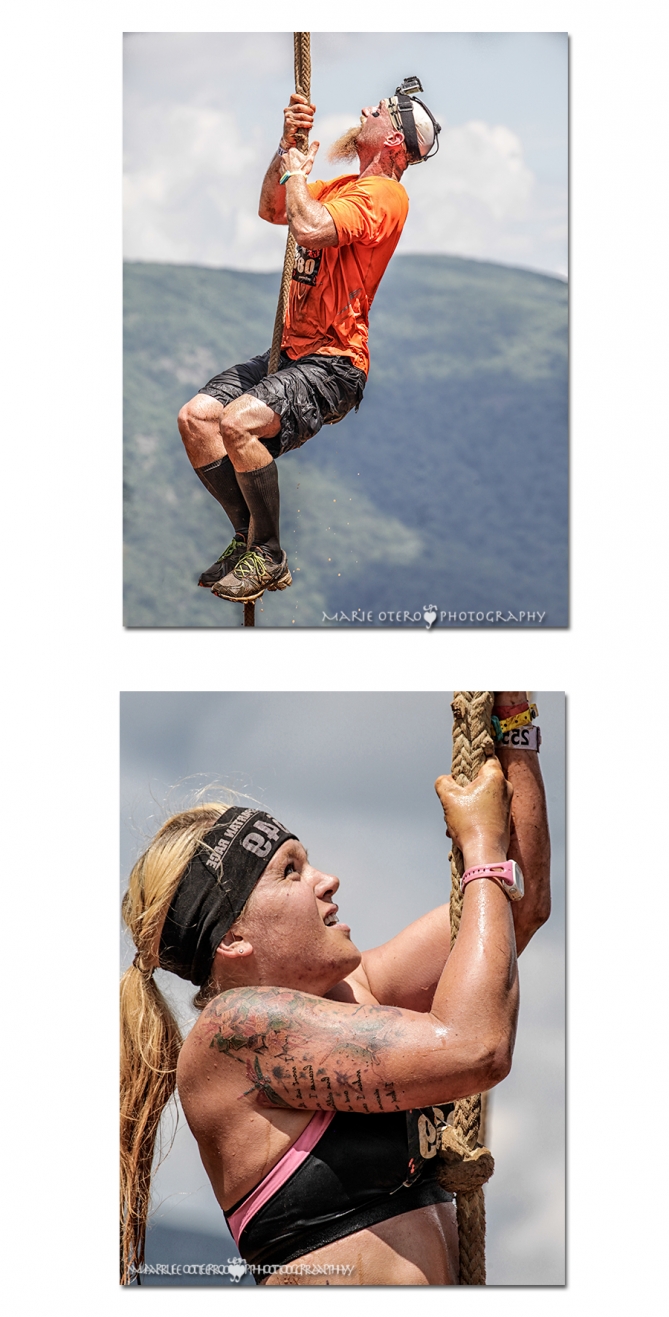 And, the backdrop of the Blue Ridge Mountains was just glorious, as was the day altogether.
One of the things that was particularly notable or incredible about the day was the number of TEAMS that participated on the run, the caring attitude and support that existed amongst ALL the runners.

One group of note was the Enduring Warrior crowd,  who serve to movtivate wounded and injured armed forces  members through physical, mental and emotional rehabilitative activities.
I saw a loads of participants from this group and if you ever wonder IF you CAN DO anything, you would only have to look to this group for inspiration.
There was a young female war vet, on crutches, doing her damndest to finish the course, a number of participants missing limbs and going hell for leather and to top it all, one incredible young man, minus both legs and an arm, completing the course.  It was totally mindblowing!!
I have to say though after watching this race and seeing the (arduous) fun they have running it, I might have to give one a go ….. a bit like a bucket list thing maybe?  I don't know. ….. I'm thinking a short course that they have here in Charlotte in March….  we will see!